Image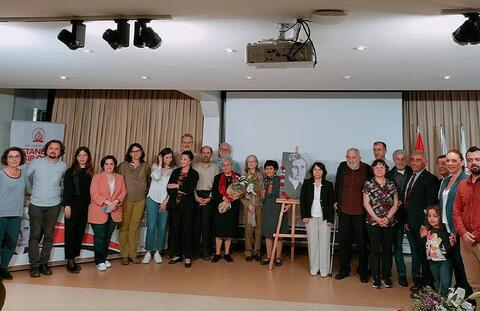 The Sevinç Özgüner Human Rights, Peace, and Democracy Award has been bestowed upon the eight people imprisoned in the case concerning the Gezi Park trial.
The awards were accepted by the families of the eight prisoners during an event held at the İstanbul Chamber of Physicians yesterday.
In April 2022, Osman Kavala, a businessperson and a rights advocate, was sentenced to aggravated life imprisonment for "attempting to overthrow the government." Seven others — Mücella Yapıcı, Tayfun Kahraman, Can Atalay, Çiğdem Mater, Hakan Altınay, Mine Özerden, Yiğit Ali Ekmekçi — were sentenced to 18 years in prison for aiding the attempt.
"If it weren't for the Gezi arrestees..."
Speaking at the ceremony, Nergiz Erdoğan, head of the İstanbul Chamber of Physicians, stated, "If it weren't for the Gezi arrestees, we probably wouldn't even see the remnants of democracy and peace in our country today."
Atalay: We will collectively alleviate despair
Following the speeches, the award ceremony commenced. Can Atalay's award was received by his parents, Mustafa Atalay and Şükran Atalay. Şükran Atalay read a message sent by Atalay from prison.
In his message, Can Atalay said, "Sevinç Özgüner became a target of fascist bullets because of being a resilient socialist physician. Like all our laborers, her memory illuminates our path, standing tall like her memory. There is no lie; our country is going through challenging times again. We will not lose hope, we will not resent our nation. Together, we will magnify hope and collectively alleviate despair. The awaited days, hopeful days, days of bread, roses, and freedom are in our hands."
Mater: Experiencing the tranquility of being right
Ümit Biçer from the Human Rights Foundation of Turkey presented Çiğdem Mater's award to her friend, İlayda Gedik. Gedik read a message sent by Mater from the Bakırköy Women's Closed Prison in İstanbul.
"Unfortunately, I cannot be with you today, but I am communicating from my small universe. We hear your voice, we feel that you hear ours. There is a sense of tranquility in being right, and we are experiencing it. We will continue our demands for equality, rights, and freedoms, with joy, laughter, solidarity, resistance, and struggle. We will meet soon," says the message.
Kavala: We will persist in the struggle
Osman Kavala's award was delivered to his spouse, Ayşe Buğra. Buğra read a letter sent by Kavala from prison.
In the letter, Kavala briefly stated, "When Sevinç Özgüner was assassinated, our country was going through a dark period culminating in a coup. Despite all the pressure and massacres, our citizens did not abandon their demand for freedom. Taking strength from those who advocated for human rights, law, and democracy before the 1980s, we will continue our struggle in solidarity to make our country a democracy and a rule of law state."
The families of the other Gezi prisoners who received awards also expressed their determination to persist and expand the struggle in their speeches.