Image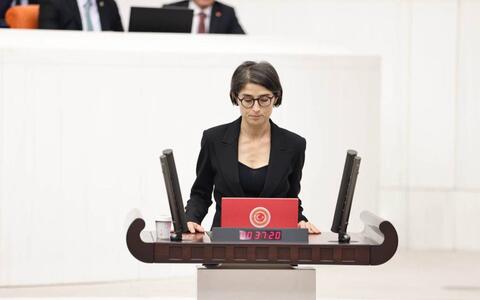 Diyarbakır Member of Parliament for the People's Equality and Democracy Party (HEDEP), Ceylan Akça Cupolo, has introduced a proposal to Parliament known as the "Recognition and Protection of Human Rights Defenders Act." 
The aim of this bill is to ensure the full and effective implementation of international declarations and guiding principles concerning the protection of human rights defenders. 
The proposal was formulated by adapting the model law prepared by the International Service for Human Rights (ISHR) in 2016 to outline the main responsibilities of the state in protecting human rights defenders. 
In the rationale for the proposal, it outlines the pressures faced by human rights defenders, especially in Turkey: 
"The systematic and increasing pressures on human rights defenders in Turkey, which have been ongoing for years, became visible through the report 'Pressures, Obstacles, and Challenges Encountered by Human Rights Defenders in Turkey in 2022' released by the Turkish Human Rights Foundation (TİHV) on September 20, 2023. At least 22 civil society organizations, including associations, trade unions, and a foundation, among them Migration Monitoring Association, Health and Social Service Workers' Union, Turkish Medical Association, Rosa Women's Association, Human Rights Association, Lawyers for Freedom Association, We Will Stop Femicides Platform, Tarlabaşı Community Support Association, Diyarbakır Bar Association, and İzmir Bar Association, saw their managers, staff, and/or members subjected to investigations and prosecutions during this period, directly or indirectly, as part of the investigations and prosecutions launched during this period." 
"Between January 1 and December 31, 2022, at least 4,819 individuals were subjected to judicial harassment, administrative harassment, physical violence, threats, targeting, and retaliatory interventions due to their human rights advocacy activities." 
"During the same period, 16 associations, 5 trade unions, and 1 foundation were targeted directly or indirectly due to their activities in the field of human rights and subjected to judicial and administrative harassment." 
"A total of 311 peaceful meetings, demonstrations, and marches were prevented from taking place in 34 different cities during this period." 
Ceylan Akça Cupolo stressed the need to establish legal safeguards for human rights defenders:  
"As the United Nations (UN) Special Rapporteur on the Situation of Human Rights Defenders Task Force, the Universal Declaration on Human Rights and Fundamental Freedoms adopted by the United Nations General Assembly in 1998 (UN HRD Declaration), the Principles on the Recognition of Human Rights and Responsibilities of Individuals, Groups, and Social Organs for the Promotion and Protection of Universally Recognized Human Rights and Fundamental Freedoms, and the Guiding Principles on Human Rights Defenders of the Organization for Security and Cooperation in Europe's Office for Democratic Institutions and Human Rights (OSCE - ODIHR) have already been on the international agenda for a quarter of a century as documents and institutions highlighting the risks posed by this pressure. Therefore, it has become a necessity to establish a legal basis that will eliminate the systematic pressure in Turkey." 
The bill aims to ensure that the protection of human rights defenders is in line with international principles and declarations and that an effective legal framework is established to prevent pressure and violence against these advocates.