Image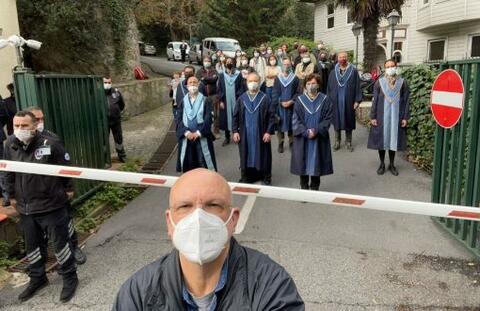 Documentary filmmaker and lecturer Can Candan has filed two separate lawsuits after being dismissed by the president-appointed rector for the second time.
The lawsuits concern the rector's decision not to extend his term of office and a disciplinary punishment that the rector cited as a reason for that decision.
Both actions were "unlawful and unfair," said Candan.
His lawyer, Fırat Kuyurtar, noted that the rector's previous decision to dismiss Candan had been canceled by an appeals court.
"The Rector's Office of Boğaziçi University, with its decision dated August 8, decided not to extend Can Candan's term of office this year, just as it did last year," he said.
The reasons for the decision were similar to that for the last year's decision, like "he was no longer needed," "he wasn't a lecturer who fulfilled his responsibilities" and the disciplinary punishment he had received, said the lawyer.
"The Rector's Office of Boğaziçi University have been looking for reasons in order not to implement the court rulings in favor of Can Candan. The disciplinary punishment was given to be a basis for the termination of his duty," he said, adding that they had filed lawsuits with the İstanbul Administrative Courts.
Their legal struggle against the "usurpation of the material and spiritual rights of the faculty members and students" will continue, said Kuyurtar.
The Eğitim-Sen teachers' union also released a statement in support of Candan, saying that school administration did not act in accordance with university's practices.
"The trustee rector and the trustee dean take revenge on Can Candan and abuse their offices," said the union.