Image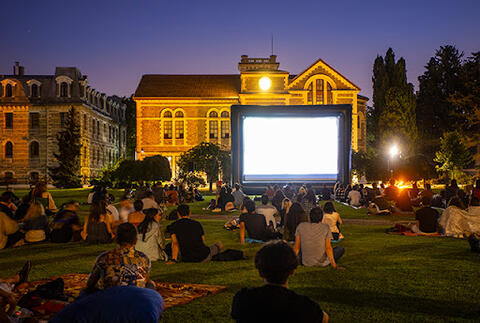 The rector's office of Istanbul's prestigious Boğaziçi University has banned the showing of films related to LGBTI issues during an open-air film screening at the university premises, online news outlet Diken reported.
Boğaziçi University Cinema Student Club, also known as Bü(s)k, listed on social media the films that it would screen as part of event that it holds every year. However, the university management banned the screening of three films, without giving any reason.
Boğaziçi University Cinema Club told Diken that they had asked for a written reason behind the decision but they were told by the university management that it would not be provided. "Therefore, we do not have a written explanation with regards to this censorship," the club said.
The banned films are "Benim Çocuğum" (My Child) by academic and director Can Candan, "Laurence Anyways" by Xavier Dolan, and "Go" by Doug Liman.
In a social media post, the club said that the films in question were already approved by the Culture Ministry and the film "Benim Çocuğum" by Candan was previously screened many times at the university campus.
Candan has recently won a lawsuit against his dismissal from Boğaziçi University. The court ordered the university to pay compensation to Candan and reinstate him to his position.
The club said that another film by Candan called "Duvarlar" (Walls) would be screened at the university's South Campus at 8.30 p.m. on July 22.
Club officials also said that they had previously sought to hold a joint event with the LGBTI student club to screen LGBTI content films during the Pride Week, but their request was turned down by the university management.