Image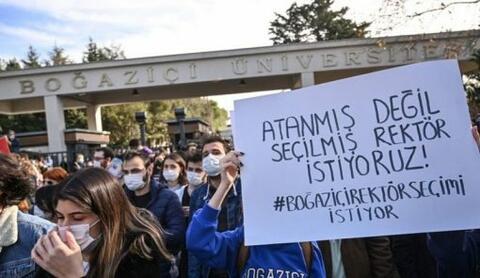 It has come to light that the board of directors of Istanbul's prestigious Boğaziçi University on Feb. 8 changed the regulations on dormitories which was in effect since 2007. The decision came as Turkey's agenda was preoccupied by the major earthquakes of Feb. 6.
The new regulation of the university, whose rector is Prof. Dr. Naci İnci, makes the expulsion of students from dormitories easier if they are found to be critical of the school management, according to March 2-dated reporting by online news outlet Diken.
The new regulation text lists behaviors that may end up in the penalties of "warning, reprimand, suspension and expulsion from dormitory," as was the case for the old regulation text, but the article of "engaging in behaviors that are similar to the aforementioned actions and manners" has been added to the text, which makes it quite vague and might bring about arbitrary implementations. 
Also, a new reason for expulsion from the university has been added to the text. It reads as follows: "In the press or social media, insulting other students, the personnel, the institution and other public institutions or their executives or making statements against them that are contrary to facts."
However, it is very vague who will look into if a statement is "contrary to facts" or not. This new regulation comes at a time when many Boğaziçi University students are already being investigated over their social media posts protesting the appointment of Prof. İnci by President Recep Tayyip Erdoğan.
Another new reason cited for expulsion from dormitory is as follows: "Organizing individual or mass demonstrations such as rally, forum, resistance, march, boycott or occupation that are against the Turkish Republic's constitution, encouraging their organization, participating in these protests or forcing others to participate in them."
Again, it is very clear that this new added reason can be used to expel students who are protesting against Prof. İnci's appointment or participating in Pride Parades held at the campus.
In the old regulation text, one could have only received a "reprimand" if they were found to be drinking alcohol or possessing it at the university campus, but now, in the new text, the penalty has been upgraded to "expulsion from dormitory."