Image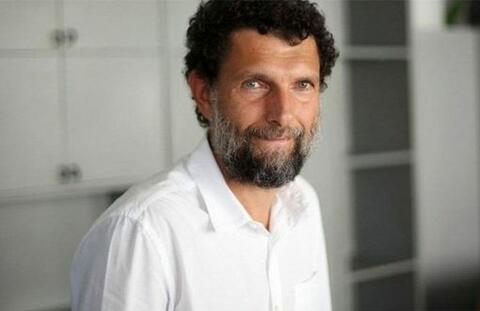 The Council of Europe on Monday (9 October) awarded its top rights prize to jailed Turkish philanthropist Osman Kavala, who has come under repeated attack from President Recep Tayyip Erdoğan.
The decision to give the annual Václav Havel prize to Kavala drew an angry response from Ankara, but was cheered on by groups that have long expressed worries about Turkey's deteriorating human rights record under Erdoğan.
Kavala, 66, faced alternating charges that have ranged from espionage and financing the 2013 protests to taking part in a failed 2016 coup against Erdoğan.
He was arrested in October 2017 and sentenced to life in 2022 for allegedly trying to topple Erdoğan's government.
"I'm very sad he cannot be with us to receive this prize, this meaningful prize," his wife, Ayse Bugra Kavala, said, accepting the award from Tiny Kox, president of the Parliamentary Assembly of the Council of Europe.
In a letter written from prison, read out by his wife, Kavala said he was honoured by the decision, and dedicated the prize to his "fellow citizens unlawfully kept in prison".
But in a statement issued late Monday, the Turkish foreign ministry condemned the "unacceptable" award.
"Giving the award to a person who has a final conviction is an extension of attempts to politicise the law," the Turkish ministry said, accusing the rights body of pursuing a "political agenda".
Infringement proceedings
The Council of Europe said Kavala had supported several civil society organisations since the 1990s and that the moves against him were aimed at gagging critics and stifling dissent.
Turkey's refusal to abide by European Court of Human Rights rulings to immediately release Kavala have torn at Ankara's relations with Western allies.
The Council of Europe has launched infringement proceedings against Turkey over its treatment of Kavala.
That could potentially see Ankara expelled from the continent's leading human rights organisation.
Critics say it also highlights the deterioration of Turkey's rights record in the second decade of Erdoğan's rule.
Turkey's supreme court last month upheld Kavala's conviction and life imprisonment on the charge of attempting to overthrow Erdoğan's government during large-scale protests in 2013.