Image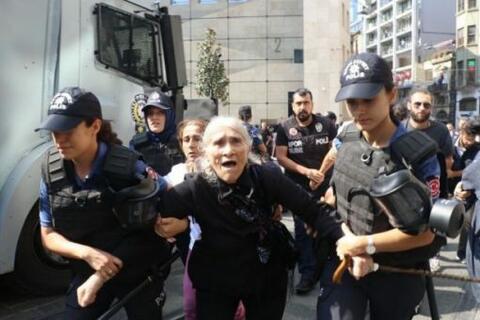 Maside Ocak, one of the Saturday Mothers, filed an individual application with the Constitutional Court over the police response to a gathering of the group on August 25, 2018.
In her application, she stated that the gatherings had been held peacefully for 24 years, and there had been no notice of a ban on the event. Yet, she said, the police had dispersed the crowd by using disproportionate force, violating the right to hold demonstrations and gatherings.
The Saturday Mothers/People have been holding weekly vigils for 29 years to demand information about their forcibly disappeared relatives in the 1990s, mostly in the country's predominantly Kurdish-populated regions.
In its decision, the top court rejected the allegation of maltreatment while concluding that the right to hold a gathering or a demonstration had been violated.
Ocak should be paid 13,500 lira (715 US dollars) in compensation, ruled the court.
The decision was given by a majority vote, with only Muhterem İnce, who was a deputy interior minister before being appointed to the top court, casting an opposing vote.
Speaking to bianet about the decision, Ocak said, "We are living in such a period that we face an organized evil every day. In such a process, this decision surprised us very much. The decision is hope-inspiring for all of us."
What happened?
On August 25, 2018, the district governor of İstanbul's Beyoğlu banned the 700th gathering of the Saturday Mothers/People, on the grounds that they had not notified the authorities of the event.
After the group attempted to hold the gathering anyway, the police responded violently and detained 23 people. Later, a case was filed against 46 people for "violating the Law on Gatherings and Demonstrations."
Maside Ocak, the elder sister of Hasan Ocak, who disappeared in custody in 1995, was among the people who were subjected to violence from the police.
Prosecutors dismissed Ocak's criminal complaint against the police officers and chief. After a penal judgeship of peace also rejected her appeal, she filed an individual application with the Constitutional Court.