Image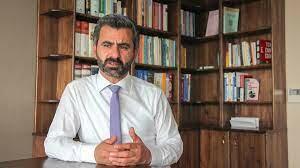 The Union of Turkish Bar Associations and 81 provincial bar associations reacted against the threatening posts made on social media against Diyarbakır Bar Association Head Nahit Eren and his family members. Diyarbakır is one of the provinces that is mainly populated by the Kurdish population.
The press release read: "We do not want to experience a new Tahir Elçi pain." Elçi, the former head of the Diyarbakır Bar Association, was killed in broad daylight in 2015 while speaking to the media to call for an end to the ongoing conflict between Turkish security forces and the Kurdistan Workers' Party (PKK).
Addressing the "law enforcement, judiciary, and the state" in its statement, the bar associations wrote: "In cowardly threats made from anonymous accounts, sharing photos of our president's family and relatives including his children reveals the gravity of the matter clearly enough."
"We, who accept that the struggle can only be under the umbrella of democracy and the rule of law, and who are totally opposed to all kinds of violence and the threatening of innocent people with vile death, invite law enforcement, judiciary, and the state to take the issue seriously and find and punish the perpetrators immediately.
If new pains and tragedies are not desired, we call on those concerned to do their duty before it is too late.
In the face of the threats of dark forces, as the undersigned Union of Turkish Bar Associations and Bar Associations, we announce to the public that we stand by Diyarbakır Bar Association Head Nahit Eren and support him without hesitation."