Image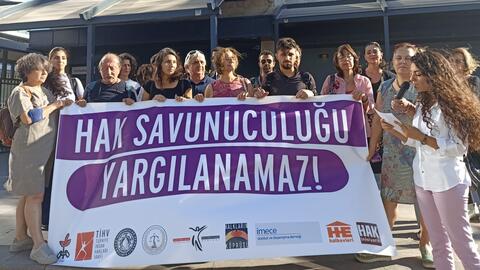 An İzmir court on Oct. 12 gave prison sentences to four of six people on trial for taking part in a protest organized on Feb. 3, 2021 in Aegean İzmir Province against the rector appointment at Turkey's prestigous Boğaziçi University. 
Representatives of political parties and non-governmental organizations were present at the final hearing.
Six people were charged with "resisting officers, not dispersing after warning during unlawful meetings and protests, insulting a public officer." The court acquitted lawyer Erdoğan Akdoğdu and Human Rights Foundation of Turkey (TİHV) employee Aytül Uçar of all charges and sentenced four to prison sentences in varying terms. 
Attorney Nehir Bilece issued a press statement in front of the courthouse after the hearing and called for the dismissal of the "unlawful" prison sentences. Bilece stated, "This oppression and intimidation policy targeting our freedom of expression, assembly, association is unconstitutional, and against the European Convention on Human Rights of which Turkey is a signatory."
"All activities on trial today are inherently part of human rights advocacy," Bilece added and reminded Turkey of its responsibility to protect human rights advocates in accordance with the international treaties and United Nations Declaration on Human Rights Defenders of which the country also is a signatory. 
What happened?
Protesters organized a press statement in February 2021 in the province in support of Boğaziçi University students who were protesting the presidential appointment of a rector close to the government. 
Police interfered with the gathering where many non-governmental organization (NGO) representatives were present, and detained 51 people with battery. The prosecutor's office sued six of the people detained one year after the protest.    
President Recep Tayyip Erdoğan on Jan. 2, 2021 appointed the pro-government figure Melih Bulu as the rector of Boğaziçi University. University students and academics launched a protest demanding his resignation. Protests in support of the students were organized in other cities such as İzmir and Ankara. 
Some students were detained and imprisoned for months while several renowned academics were dismissed during the months-long protest. Academics recently marked their 1000th day of protests.