Image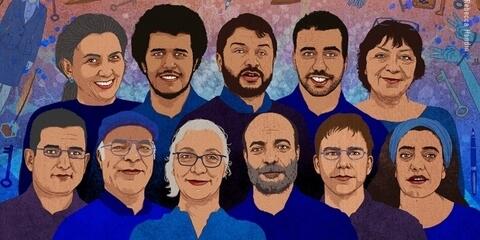 Almost six years after they were first detained, the former chair and former Director of Amnesty International Türkiye and two other human rights defenders must be acquitted of the absurd charges they are facing, said Amnesty International ahead of their hearing, which resumes tomorrow in Istanbul.
The first instance court hearing of Taner Kılıç, İdil Eser, Özlem Dalkıran and Günal Kurşun follows the overturning of their convictions on absurd terrorism charges by Türkiye's highest court of appeal, the Court of Cassation.
"The court has an opportunity to bring this politically motivated prosecution to an end. This trial has blighted the lives of these four human rights defenders and exposed the pernicious nature of the Turkish justice system," said Nils Muižnieks, Amnesty International's Europe Director.
"After almost six years, and without a shred of credible evidence presented to substantiate the absurd charges made against them, it is time to end this Kafkaesque farce and acquit Taner Kılıç, İdil Eser, Özlem Dalkıran and Günal Kurşun."
Taner Kılıç was arrested in June 2017 and detained in prison for more than 14 months. In July 2020, he was convicted of being a member of a "terrorist organization" and sentenced to six years and three months in prison. İdil Eser, Özlem Dalkıran and Günal Kurşun spent more than three months behind bars in 2017. They were all sentenced to 25 months for "assisting a terrorist organization".
In November 2022, the Court of Cassation ruled to overturn the conviction of Taner Kılıç on the grounds that the investigation was "incomplete". For İdil Eser, Özlem Dalkıran and Günal Kurşun the Court ruled that their convictions must be overturned, citing a "lack of evidence".
Last year, the European Court of Human Rights ruled that Taner Kılıç's right to liberty and security, and his right to freedom of expression had been violated when he was held in pre-trial detention. It found that Turkish authorities did not have "any reasonable suspicion that Taner Kılıç had committed an offence" to justify the deprivation of his liberty. It also noted that one of the three judges had dissented, calling for Taner Kılıç's acquittal on the basis of the lack of evidence presented by the prosecution.
"Over the course of 12 court hearings during the trial, every allegation levelled against these human rights activists was repeatedly and comprehensively proven baseless, including in the state's own police report," said Nils Muižnieks.
"These prosecutions show how Turkish courts have been weaponized to silence critical voices, which is emblematic of Türkiye's wider crackdown on rights and freedoms."