Image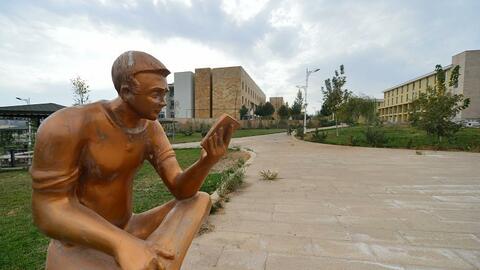 Following a four-year crackdown and a massive purge of scholars, Turkey's academic community is now severely paralyzed, while thousands of dismissed academics still await justice, facing lengthy delays in appealing their dismissals and unable to work in academia.
As readers of Free to Think might well remember, the crackdown began dramatically in January 2016 with the case of Academics for Peace. Publicly denouncing the gross human rights violations committed by Turkish security forces against civilians in the embattled Kurdish regions of Turkey, Academics for Peace released a petition (known as the "Peace Petition") urging the state authorities to resume peace negotiations. In a chilling response, prompted by President Recep Tayyip Erdoğan in particular, state and higher education authorities retaliated against more than 2,200 scholars who had endorsed the Peace Petition by launching administrative and criminal investigations, issuing suspensions, and firing and blacklisting academics.
Following the failed military coup on July 15, 2016, the government declared a State of Emergency, which lasted for two years. From July 2016 to July 2018, Turkey's higher education system hit a new low. A total of 6,081 academics, including 406 signatories of the Peace Petition, were dismissed through emergency decrees based on arbitrary accusations of "affiliations with a terrorist organization," which were not substantiated before a court of law. Banned from academic employment and civil service for life, and with their passports confiscated by decree, these scholars have lost their careers, their livelihoods, and their ability to start over elsewhere—a condition widely recognized as "civil death."
During the State of Emergency, moreover, a number of crucial changes to the Higher Education Law dismantled all mechanisms of institutional mediation in the nominations and elections of university rectors, thereby making President Erdoğan the sole arbiter of university leadership. Rectors directly appointed by President Erdoğan often play a repressive role, stifling student dissent and critical scholarship. Self-censorship among academics has reached an alarming level, as discussed here.
Ongoing injustice for dismissed academics
As crucially noted by the Venice Commission of the Council of Europe, the emergency measures of the Turkish government, including mass firings without due process, were implemented in such a way that "those measures may affect a large number of innocent people and organizations which have nothing to do with the conspiracy." Yet, public employees dismissed by emergency decrees cannot bring their grievances directly to a court of law. They must first apply to the State of Emergency Appeals Commission for a reassessment and may seek review through administrative courts only if the Commission rejects their application.
Since its inception in 2017, the Commission has been sharply criticized for bias and for its lack of transparency. The fact that it is an administrative organ appointed by the same executive responsible for dismissals creates an inherent conflict of interest. Moreover, the procedure before the Commission gives rise to grave due process concerns: applicants are not even allowed to "see any allegations/evidence against them in advance of their application," raising justified concern about its apparent functioning as a stalling mechanism.
As of July 2020, the Commission had received a total of 126,300 appeals; of those, it had issued decisions in 108,200 cases, with 11.3% of cases approved and 88.7% rejected. It is unclear how academics' cases fared, but given the significantly low rate of approval, there is no reason to be optimistic for Turkey's dismissed academics.
Notably, the appeals by Academics for Peace are among the cases "not yet concluded" by the Commission, despite the Constitutional Court's ruling in July 2019 that endorsement of the Peace Petition was strictly under the protection of freedom of speech.
Not only dismissed but also "stigmatized": life under civil death
The Human Rights Foundation of Turkey conducted extensive fieldwork on Turkey's dismissed academics in 2018-2019. Our findings suggest that dismissal by an emergency decree is much more than a job loss. It is an act of social and political stigmatization, which deprives individuals of a basic sense of personal safety and undermines their agency in myriad ways, leaving deep scars in their life stories.
Feelings of permanent threat and psychological preparation for the worst are very common among dismissed academics. An overwhelming majority of them do not feel safe in Turkey (97%), and believe that, even if reinstated to their academic positions by the Commission, they will be exposed to further intimidation at the university setting (93%)—a justified concern given the current repressive climate at Turkish universities, as discussed below.
Banned from civil service and academic employment for life, dismissed academics cope with immense difficulties in their daily lives. They work all sorts of jobs (mostly part-time and piecework) often with no relation to their academic expertise and for which they are vastly overqualified. Many of them have been denied a job at least once after employers reviewed social security records reflecting their dismissal by emergency decree (60%). Apparently, employers fear facing pressure themselves if they were to hire a dismissed person. The "stigma" is thus real and visible.
The rate of mental and emotional disorders among dismissed academics is much higher than that of the same age groups within the general population. It even approximates the rate of similar disorders among victims of torture. Of those who consulted with a medical institution, many were diagnosed with depression (47%), anxiety disorder (31%), and post-traumatic stress disorder (21%).
Fear and self-censorship on campuses
To get a full sense of the chilling effects of the academic purge, it would be useful to take a look at the campuses and the situation of academics who were not dismissed. Are they able to continue academic business as usual?
The short answer is no. Recent research by Taştan & Ördek (2020) on the effects of the State of Emergency on academic freedom at Turkish universities reveals that fear and self-censorship are very common among professors and graduate students.
According to a key finding in the research, half of the academics report that they, too, had fears of being dismissed through an emergency decree (49%). One is tempted to recall what Robert Maynard Hutchins, the former president of the University of Chicago, said during the McCarthy era: "The question is not how many professors have been fired for their beliefs, but how many think they might be. The entire teaching profession is intimidated." The same holds true for Turkey's academic community today.
A clear majority of academics "do not feel free" to share expert knowledge and opinion in their publications (54%) and academic events (57%). Approximately one-third of the participants admit that they impose self-censorship to avoid "sensitive issues" such as the Kurdish question, Armenian genocide, and LGBTQ+ rights in the classroom (34%), in academic publications (31%), and in professional gatherings (32%). And most of them are worried about retribution for their social media posts criticizing the government and its policies (84%).
Intimidation consolidated
The crucial point supported by the foregoing research findings is clear: Turkey's academic community is now severely paralyzed, which inevitably raises concerns about the future of higher education in Turkey. The sense of trust among academics, as well as between professors and students, seems to have seriously eroded under political pressure. Fearing that their research and teaching are subject to surveillance by their colleagues and students, academics conform to an ever-expanding culture of docility and avoid critical engagement with issues of social and political relevance. While the number of documented human rights violations suffered by Turkey's scholars has apparently decreased since the State of Emergency was lifted, this should not be understood as a sign of rehabilitation, but rather as one of consolidated intimidation. The more academics avoid critical discourse, the less likely they are to face repression.
Rectors contribute to this state of intimidation. Rectors' repression of critical discourse and inquiry is a common phenomenon in Turkey. Since the beginning of the State of Emergency, rectors, who are now directly appointed (and can be discharged at will) by President Erdoğan, have become more systematic and aggressive, taking it upon themselves to retaliate against criticism, sometimes scandalously. In one striking example, university rectors and senates released bitter public statements denouncing the Constitutional Court of Turkey for its July 2019 ruling that the Peace Petition was a legitimate exercise of freedom of speech.
Recent amendments to the Higher Education Law in April 2020 make it clear that Turkish authorities have no intention of restoring even the minimal conditions required of academic freedom, including extramural speech. Quite to the contrary, through a set of ill-defined disciplinary clauses that contain deliberately vague phrases such as "attitudes contrary to public morality" or "supporting activities that qualify as terror," the new legislation provides university administrators with an expanded toolbox for criminalizing dissent. The sense in which Turkish universities are "autonomous" today has more to do with the choice of repressive instruments against critical speech rather than collegial self-governance in service of academic freedom.
One case recently reported to HRFT raises further concerns about the extent of official censorship of academic research and discourse in Turkey. Gullistan Yarkın, a Kurdish citizen of Turkey who completed her PhD in Sociology at the State University of New York at Binghamton (SUNY Binghamton), has been recently denied the recognition of her doctoral degree by Turkey's Interuniversity Board, which holds the exclusive authority to grant equivalency certificates to doctoral degrees earned abroad. According to the opinion of the Board, dated September 23, 2020, Dr. Yarkın's dissertation does not qualify for recognition in Turkey because it violates Turkish law, and in particular the country's anti-terror law, by approaching the Kurdish question as an instance of colonialism and featuring Kurds as a colonized people. The Board based its decision on a number of phrases from Dr. Yarkın's dissertation, including, among others, "modern Turkish colonialism," "atrocity and massacre against non-Muslims," and "Armenian Genocide." The basis of the Board's decision makes it clear that such expressions and related academic approaches are banned in Turkey's state-controlled academic discourse.
Advocacy through partnership
Meanwhile, the "solidarity academies" created by dismissed scholars in various provinces of Turkey constitute an alternative, "grassroots" venue of free research and learning. Vibrant initiatives embedded in civil society, they host seminars and workshops, addressing a broad variety of topics. As such, they offer a much-needed space for critical exchange between dismissed academics, students and civil society actors. We urge the global academic community to establish one-to-one partnerships with these emerging initiatives.
To that end, academic institutions all over the world should consider, among other courses of action:
developing joint research and teaching programs with Turkey's solidarity academies;
providing online teaching opportunities for dismissed scholars who continue to reside in Turkey;
creating honorary affiliations for a limited number of dismissed scholars and granting them access to online scientific resources; and
providing academic mentorship and free access to online language courses to support graduate students directly affected by the academic crackdown in Turkey.
***
Following a five-year crackdown, academic freedom and freedom of expression in Turkey are today severely damaged. Scholars who were unduly dismissed during the State of Emergency still await justice, apparently in vain, while fear and self-censorship are pervasive on campuses.
The global academic community and higher education leaders around the world are urged to publicly express on all possible platforms their concerns about academic freedom in Turkey, convey their criticisms to Turkey's Higher Education Council (YÖK), and uncompromisingly insist on academic freedom as a condition of their partnership with Turkish institutions.