Image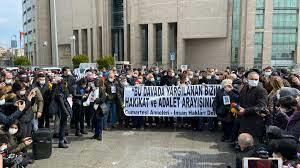 Put on trial over their 700th gathering at İstanbul's Galatasaray Square, Saturday Mothers/People had their third hearing at the İstanbul 21st Criminal Court of First Instance today (November 24).
Rejecting lawyers' requests, the court has also rejected the request for filing a criminal complaint against the public officials responsible for the police attack on Saturday Mothers/People on August 25, 2018.
The next hearing will be held on March 23, 2021 at 1.30 pm.
A lawsuit was filed against 46 people who were detained during the police attack targeting the 700th gathering of Saturday Mothers/ People, who have been demanding justice for their enforced disappeared relatives at Galatasaray Square in İstanbul. Since the police intervention in the 700th week on August 25, 2018, they have been prevented from gathering there.
As part of this recent lawsuit, the defendants have been charged with "unarmed participation in unlawful demonstrations and marches and refusal to disperse despite warning" and they now face a possible sentence for violating the Law on Meetings and Demonstrations.
Request for 'immediate acquittal'
As reported on the social media account of Saturday Mothers/People, Batman Bar Association Chair Erkan Şenses took the floor first at today's hearing.Bar Chair Şenses demanded that "the court give a ruling of acquittal immediately in order to protect all defendants."
Lawyer Diyar Çetedir also stated, "The mothers did not have to make a notification about the protest that they had been holding for 700 weeks. There is no violation of the Law on Meetings and Demonstrations. If at all, there is the public officers' misconduct in office."
Accordingly, lawyer Cahit Kırkazak requested that the public officials who conducted mistreatment be identified and a criminal complaint be filed against them. The lawyer also requested the immediate acquittal of all defendants. The court has rejected this request.
Request for recusal
With the other requests of lawyers rejected in a short time, lawyer Efkan Bolaç took the floor and said, "At the current point, we don't want to continue this case with you. Withdraw from this case so that the case can continue easily. We don't see you as the assurance of defendants."
While lawyer Kırkazak indicated that the court was not objective, the other lawyers also raised requests for recusal.
However, the court wanted to continue holding the hearing without concluding the requests for recusal, which was met with protests by lawyers. They recalled that their requests for recusal had not been concluded and underlined that the hearing could not continue in such a case.
With their requests rejected again, lawyers left the courtroom.
'I don't believe in your impartiality'
The court board came back in the courtroom after a short while; the lawyers of the defendants continued protesting.
Maside Ocak, the sister of disappeared Hasan Ocak, said, "Here, you are judging our waiting with the pictures of our disappeared relatives at Galatasaray Square. I don't believe in your impartiality."
The court ended the hearing and ruled that warrants should be issued to bring 10 people to court by force and to catch two people.
Lawsuit against 46 rights defenders
The following people face a lawsuit over their participation in the 700th week: Koray Çağlayan, Koray Kesik, Leman Yurtsever, Levent Gökçek, Lezgin Özalp, Maside Ocak, Mehmet Günel, Muhammed Emin Ekinci, Ayça Çevik, Besna Koç, Cafer Balcı, Can Danyal Aktaş, Cihan Oral Gülünay, Cüneyt Yılmaz, Deniz Koç, Ercan Süslü, Ezgi Çevik, Faruk Eren, Fecri Çalboğa, Ferhat Ergen, Gamze Elvan, Hakan Koç, Hasan Akbaba, Hasan Karakoç, Jiyan Tosun, Kenan Yıldızerler, Murat Akbaş, Murat Koptaş, Onur Yanardağ, Osman Akın, Özer Oymak, Özge Elvan, Ramazan Bayram, Rüşa Sabur, Sadettin Köse, Adil Can Ocak, Ahmet Karaca, Ahmet Süleyman Benli, Ali Ocak, Ali Yiğit Karaca, Atakan Taşbilek, Ataman Doğa Kıroğlu, Saime Sebla Arcan, Sinan Arslan, Ulaş Bedri Çelik, Volkan Uyar.
It is also decided that the case files of the MPs who were there to attend the demonstration be separated from others as they have legislative immunity.