Image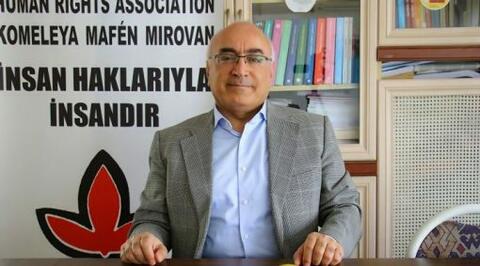 We are here to stand in solidarity with our dear friend Lawyer Öztürk Türkdoğan who has been the co-chair of Human Rights Association (HRA/İHD) for 15 years and has dedicated more than 35 years of his life to addressing Turkey's fundamental human rights problems and helping the victims of human rights violations.
The Human Rights Association was inspected by the Interior Ministry Inspectors firstly in 2016 and then in 2020, and as a result of both audits, the inspectors had filed complaints against the Association. The complaint in 2017 resulted in non-prosecution decisions by the Public Prosecutor's Office. On March 19, 2021, some time after the 2020 audit, the HRA Co-chair was detained and then released under judicial control on the same day. As a result of the audit in 2020, the Public Prosecutor's Office prepared this time three indictments, alleging that the HRA Co-chair had committed crimes under the Articles 125, 301 and 314 of the Turkish Penal Code (TPC), and the relevant courts accepted these indictments and started the prosecution process.
The charges based on the Articles 125 and 301 of the TPC are directed at the activities of the Human Rights Association. A statement criticizing the actions and rhetoric of the Interior Minister and the "Call to Recognize the Armenian Genocide" made by the HRA on April 24th every year for a very long time were listed as crimes. These are the same allegations that the Public Prosecutor had previously decided not to prosecute.
Öztürk Türkdoğan's advocacy activities as the Co-Chair of the Human Rights Association are to be punished in the case, the first hearing of which is to be held on this February 22, before the Ankara 19th Assize Court, which was created during the state of emergency. It is in no way acceptable to expand the crime of membership of a criminal organization and the uncertainty identified by the European Court of Human Rights regarding this crime to include the human rights advocacy activities.
These indictments targeting the Human Rights Association and its Co-Chair are indictments aimed at covering up torture, discrimination, violence, lawlessness and impunity by silencing and intimidating human rights defenders.
These indictments are at the same time threats to all rights defenders and independent CSOs defending human rights and freedoms in Turkey.
We the undersigned human rights organizations and the human rights defenders will continue to fight for equality and freedom for all and justice without allowing any discrimination in Turkey, to realize the international human rights standards, which are considered part of domestic law in line with Article 90 of the Constitution, and to stand against injustices.
We want everyone to know that such pressures on the struggle for human rights cannot weaken our struggle or solidarity as human rights organizations.
We will continue to defend human rights and freedoms and protect each other.
Amnesty International Turkey
Association for Monitoring Equal Rights
Civil Rights Defenders
Citizens Assembly
FIDH (International Federation for Human Rights), within the framework of the Observatory for the Protection of Human Rights Defenders
FİSA Child Rights Centre
Human Rights Agenda Association
Human Rights Foundation of Turkey
Kaos GL Association
Media and Law Studies Association (MLSA)
Mülkiyeliler Birliği
OMCT (World Organisation Against Torture), within the framework of the Observatory for the Protection of Human Rights Defenders
Research Institute on Turkey
Rights Initiative Association
Rosa Women's Association
Truth Justice Memory Center
Turkey Human Rights Litigation Support Project